Here are some textbooks which I believe are excellent for serious Chinese language students!
! Although it won't be easy on the wallet, if a textbook has a CD, workbook companion, I think, it worths buying. It will give one a better learning experience.
 Integrated Chinese Textbook
 Chinese Course (Hanyu JiaoCheng  汉语教程)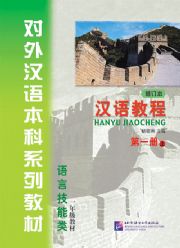 This book series are superb, concise and to the point. I like the detailed but short explanation in grammar and how to use it. The sample sentences are abundant. Has series for grammar, conversation, listening, and reading. Has a CD too, sold separately. The prices is pretty cheap. The illustrations are simple and fun. Publisher BLCU Press (Beijing Language and Culture University Press). In the past this was the main textbook in BLCU, but now they seem to use "Road to Success" more (see below, as of 2011). 
This one is a new series from BLCU Press. Excellent articles and examples. I love this series a lot. Each book comes with CD and answer key to exercises. Great for students to learn by their own. Have grammar, listening, speaking books.In each chapter they have listening exercise. Listen to the CD, and you need to answer questions at the end. They also have reading exercise: a textis given with questions at the end and allowed time to read the text. It seems easy but really is not: the allowed time is really quick so you're trained to read quickly and skimming in some cases. Of course each chapter is loaded with exercises for grammar and normal reading too. The articles are really interesting and heavy for the level.
This textbook is really famous for overseas Chinese students. It has complete lines: textbook, workbook, CD, DVD, instructor's manua from Vol 1 (elementary) to 6 (advanced). Very complete integrated Chinese Textbook in many languages: English, Spanish, Russian, Japanese, and more. The second edition just came out in 2011.
 Boya Chinese:
Excellent integrated Chinese textbook too pubished by Beijing University Press. Only in English, however.
Experiencing Chinese
This series offer Chinese textbook series with real life topics of conversation/articles. Like living in China setting, business in China, politics conversations, etc. The setting is outside the scope of routine students conversation but more to realistic daily encounter.
Business Chinese Textbook
A concise business chinese textbook. These thick books have all important sentences and words commonly used in business. The grammar is concise but important too. Good for those who want to learn quickly. The study cases are interesting and taken from real business acitivities.
For example: Company A wants to do case study on how their product is doing. Then they have groups of people discussing. The conversation is pretty realistic using most common business sentences.
Publisher: Peking University Press
. Chinese Textbook for Managers:
Business Chinese textbooks, the contents are adjusted suitable for business person.
. Business Chinese for Success: Real Cases from Real Companies
 Chinese business textbook with contents drawn from business cases. Great for business majors
Dictionary
A great chinese-chinese dictionary used by many people and (probably) all students in China. Greatly popular! Can't be wrong and the price is good!
Very complete and detailed with excellent illustration. Great for adults, I don't think it's as good for kids since it has lots of detailes
My Chinese Picture Dictionary
Have lots of great pictures and all comes in Chinese, Chinese Character, English. See inside here. 349 pages, size 25.8 x 19.4 x 2 cm
Flash Cards
See it here
In China there are tons of flash cards available for kids to learn Chinese (or other things like car names, objects names, world flags, and so on...). It's a great tool for non-native Chinese learners adults or kids. They are very cheap too (if you buy in China, what expensive is the shipping cost, unfortunately :( They are fun to use! Usually they have 2 sides. One side for a picture, the other side for the chinese character with pinyin or how to write. The quality is super, the cards are thick with great pictures. No need to buy expensive flash cards that come with your textbook, really. They usualy are pretty costly.
Chinese Characters
. Easy Way to Learn Chinese Character
 Only one book and has it all. Concise and yet fun to read, see inside here.
 . Learn Chinese Characters with Ms. Zhang 
Chinese textbook series developed by Beijing Language and Culture University Press which provide rigorous training on chinese characters complete with workbook and textbook lines.
. Short Term Spoken Chinese
We used this one for conversation class. Good and concise with emphasis on conversations. The line comes from beginners to advanced learners.
This series comes from beginner to advanced learners. The texts are taken from variety and broad settings. It comes with CD which is sold separately. The books are printed in many languages such as English, Japanese, Korean.
. Spoken Chinese (Hanyu Kouyu)
This chinese textbook is published by Beijing University Press. Great textbook for conversation Chinese. The recording is taken from real life conversation. For example they interview a peasant, they really talk to a farmer with all types of background noises just like in a readio. Fun, but was a challenging class to take!! Comes with CD which is useful for students to study by themselves. The lines comes from elementary to advanced learners.
. Newspaper Reading Course by Blcu Press
Textbooks for reading newspaper. The articles are taken from newspaper with exercises and questions to check students understanding.
NEW HSK test preparation textbooks
These books provide simulated test like the real NEW hsk tests. The Chinese Proficiency Test (HSK) is a standardized test to assess the Chinese language proficiency of non-native speakers. Effective 2010, HSK has a new test system called "NEW HSK test" with Level 1-6. The test is used for example for university (in China) entrance requirement.
. Loose Leaf NEW HSK test preparation


From Peking University Press. Each set comes with answer and explanation. It's sold per set so it's really cheap. One set contains only one new hsk simulation test. Good if you want to get a sample on how new HSK test is.
This book is loaded with simulation NEW HSK tests with answers. However, the answers come also with explanation and detailed analysis. Good for self study.


. Simulated test for NEW HSK 
These books consist sets of NEW HSK simulation tests. Cheap compared to other similar books. Complete from NEW hsk 1-6
. Success with NEW HSK
This series starting Level 4 has separate books for students to practice reading, listening, and writing
-> This book set includes explanation, instructions, tips and more: Intensive Guide of the new HSK
 Publisher: Beijing Language and Culture University Press
Chinese textbook for kIdS
For bigger kids
Also known as Kuaile Hanyu. Good for kids age 11-16 years. Comes with workbook, instructor manual, CD, and more.
. Easy Steps to Chinese 
Also for kids with CD included. Complete line from level 1 to 8 developed by Beijing Language and Culture University Press. Complete with CD, workbook, poster, cards, teacher's books, and more. Excellent textbooks with nothing against it, except that it's a bit pricy... Suitable for primary/seconday school kids. They also develop series for younger kids in first grade primary school "Easy Steps to Chinese for kids".
A great series too comes with CD. Suitable for age 15-18 years. Comest with workbook and teacher's book.
This series has been translated to many languages around the world and has three volumes complete with cards, workbook, instructor manual, DVD and more.
For younger kids
. Mandarin Hip Hop vol.1 Textbook with 1CD
The textbook is designed for kids to learn to Chinese by singing and rhymes.
. Easy Steps to Chinese for Kids
Integrated Chinese textbook series for primary school kids. The series comes with workbook and variuos types of words and flash cards. Great coloured illustrations. Check here to see inside of book 1a.
Nicely coloured books with great pictures. Comes with a CD. The book teachers Chinese trough songs and lyrics. Good for pre-school kids or above.
Challenge
POEMS:
For follks who are in advanced Chinese class. This is a challenge: understanding Chinese Poems!  Try that out, some books are here, some free stuffs are here. The books are technically for native Chinese kids, but for adult learners of non native Chinese speakers could be quite of a challenge! Some words are used thousands years ago so the meanings are different these days. These books have notes to help one understand but still... , well how to put it: I consider myself as "advanced" but I still can't understand much of these. hehe...